Partick Housing Association Ltd
 Signed 8 months ago
Sector: Public Sector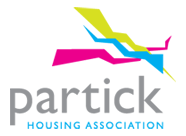 ---
Organisation statement:
PHA was established in 1975. We are the biggest community-based property owner and manager in our area, and the largest provider of affordable housing. We are proud of our historic achievements, and local roots, and the part that we have played making Partick the vibrant place that it is today.
Commitment to digital participation:
We have joined the Digital Champions Network cohort in the West of Scotland and are currently developing a Digital Participation Action Plan. We will continue to promote tenant participation and community activities, and incorporate digital aspects into as many of these as we can. Objectives and Outcomes of our Corporate Plan for 2018 - 2023 include: "Help our customers to access a range of services, including training/employment opportunities"; "Target how we communicate and deliver services effectively to meet the needs of our customers"; and "Provide customers with easy and convenient access to services". These will largely be delivered via digital channels, and it is therefore vital we ensure all our customers have the Essential Skills they will need to use these services.
Support offered:
As part of the Digital Champion network, we will train a Digital Motivator and Digital Champions who will deliver our Digital Action Plan, and be able to support and train our customers, and the wider community.
Support wanted:
The most important thing we need, as we embark on our 'digital journey', is to understand what it is our customers want. What does 'digital' mean to them? What research has been done with our customer demographic and how can we use that to ensure we are offering and delivering the right Digital Programme and not just 'computer lessons'
---