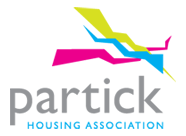 Partick Housing Association Ltd
 Signed 5 years ago
https://www.facebook.com/PartickHousingAssociation/
Sector: Public Sector
---
Organisation statement:
PHA was established in 1975. We are the biggest community-based property owner and manager in our area, and the largest provider of affordable housing. We are proud of our historic achievements, and local roots, and the part that we have played making Partick the vibrant place that it is today.
Commitment to digital participation:
We will continue to develop our systems to enable us to deliver more services using Digital technology. We will train and empower staff to support our customers to use the digital services we deliver. We are looking to obtain our Cyber Essentials accreditation this year and we are committed to having a fully secure website on which customers will feel confident about communicating and transacting with us. We will expand the use of mobile technology for staff, and hope to continue using video conferencing, not just for Board and Management Meetings, but with suppliers/trainers to reduce costs on future projects.
Support wanted:
We have focused our efforts largely on our 'digital output' and how we communicate and transact with customers, but could do more with/for our customers to support/encourage their own digital participation.
---