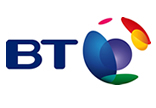 BT Scotland
 Signed 6 years ago
Private Sector category: Information / Communications / Media
---
Organisation statement:
As a Communications company it will come as no surprise that we see connectivity, connecting communities and digital inclusion as all pat of the same priority and a key part of our Corporate Responsibility strategy. This is an area where BT has been active for many years. In particular we want to help harder to reach groups , the elderly, people who need to build skills and confidence to find work, people with disabilities and those for whom English is not their first language.
Commitment to digital participation:
through our Skills for Tomorrow programme we will continue to help 10 million people improve their digital skills to get the most out of the digital world.
---