BT Scotland
 Signed 5 years ago
Private Sector category: Information / Communications / Media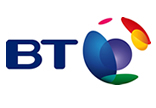 ---
Organisation statement:
As a Communications company it will come as no surprise that we see connectivity, connecting communities and digital inclusion as all pat of the same priority and a key part of our Corporate Responsibility strategy. This is an area where BT has been active for many years. In particular we want to help harder to reach groups , the elderly, people who need to build skills and confidence to find work, people with disabilities and those for whom English is not their first language.
Commitment to digital participation:
14/12/16 survey response: We would hope to continue to support frontline digital skills projects to build skills and confidence amongst those currently not online so they can reap the benefits (social, work related, access to information and financial savings etc ) that being online can bring.
7/7/14: We have a number of approaches to helping people get online. We are a funding partner of The Scottish Digital Challenge Fund and currently supporting 8 Digital Inclusion and skills projects in communities across Scotland. We also provide free , downloadable resources to help people get on line .
---