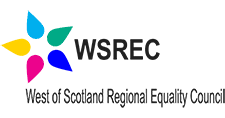 West of Scotland Regional Equality Council
 Signed 5 years ago
Third Sector category: Other
---
Organisation statement:
Our vision is to work towards a society free from discrimination. We run a number of diverse and innovative projects which address a gap in service or need amongst minority ethnic communities in the West of Scotland. West of Scotland Regional Equality Council (WSREC) is governed and run by minority ethnic communities in the West of Scotland. Our key aims are to eliminate discrimination, reduce inequality, promote human rights and promote good relations between all communities in the West of Scotland and beyond.
Our Organisational Outcomes are: • Reduction in Inequalities and the promotion of Human Rights for people from diverse communities. • Diverse communities better enabled to access beneficial services • Increased harmony and understanding between all communities. • WSREC is a competent multi-equalities and human rights organisation. • Increase in organisational enterprise activities
We work closely with minority ethnic communities from across the West of Scotland to identify service needs and gaps and respond to them by delivering short and long term projects which meet these needs.
Commitment to digital participation:
We will commit to ensuring that our staff & volunteers have the opportunity to develop essential digital skills. We will continue to support our staff & volunteers to help others learn essential digital skills.
Support offered:
we will offer our staff and volunteers access to digital training. Citizens/clients will have access to online materials
Support wanted:
our needs are to modernise and upgrade our equipment, support to capacity build staff and volunteers knowledge and understanding of good digital practice
---
West of Scotland Regional Equality Council has been supported by the Charter Fund
Minority Ethnic Super Surfers (MESS)
 Funding provided 4 years ago
From our experience of running a number of inclusion projects, we are aware that there is still a need for minority ethnic communities to be capacity build to reduce poverty, access mainstream services, lead healthier lives and be socially integrated. There are a number of publications such as the S… Read more

Find out more about the Charter Fund
---