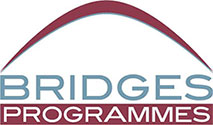 The Bridges Programmes
 Signed 8 months ago
http://www.bridgesprogrammes.org.uk
Third Sector category: Education
---
Organisation statement:
The Bridges Programmes supports the social, educational and economic integration of refugees, asylum seekers, migrants, and anyone for whom English is a second language, living in Glasgow.
Commitment to digital participation:
We aim to to incorporate the eight essential employability skills - technology, positive attitude, communication, teamwork, self-management, willingness to learn, resilience and thinking skills into our assessments, classes and modular units.
Support offered:
Bridges Programmes deliver training and work experience to anyone who has English as a second language and aim to embed digital training into our vocational ESOL classes, care, hospitality, medical professionals and warehousing. Each course lasts 6 – 8 weeks, 3 days per week, 3 hours per day.
---