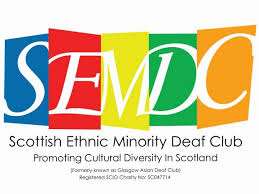 Scottish Ethnic Minority Deaf Club SCIO
 Signed 5 years ago
Third Sector category: Community, Social or Economic Development
---
Organisation statement:
Established in 1998 the Scottish Ethnic Minority Deaf Club (SEMDC) provides a variety of specialist services and events for the Scottish Deaf Ethnic Minority Community(SEMDC) We are a registered SCIO and the only club throughout Scotland that meets the needs of this often extremely isolated community who face multiple barriers throughout their everyday lives. Our doors are open to deaf people and their families where there are no barriers to communication. SEMDC provides support, advocacy, information, advice, signposting and empowerment within their list of services.
Commitment to digital participation:
To providing essential ongoing digital training and essential digital and often life saving skills to extremely socially isolated members of the Scottish Ethnic Minority Community.
Support offered:
Access to bespoke digital training and digital equipment
Support wanted:
Qualified trainers to deliver training to deaf people. Access to digital equipment.
---