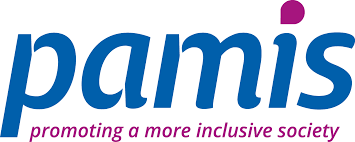 PAMIS
 Signed 3 years ago
https://twitter.com/PAMIS_Scotland
https://www.facebook.com/pamisscotland
Third Sector category: General Purposes
---
Organisation statement:
PAMIS is the only charity that solely supports children, young people and adults with profound learning and multiple disabilities and their families to lead healthy, valued and included lives. We offer Family support, education, research & practice development, inclusive culture & leisure, PAMIS multisensory stories; the Pamis Digital Passport and PAMIS 24 Hour Postural Care Our founding principles are that People who have PMLD: Are valued as individuals and for their contribution within communities. Should receive all the support needed to realise their full potential. Have a right to full lives shaped by personal choice, abilities and needs and that this underlies all provision and policy affecting their lives. The knowledge and experience of family carers is recognised, and their views are fully considered in service development.
Commitment to digital participation:
PAMIS work with people who have profound intellectual disabilities and their family carers to develop an approach to digital that is meaningful, relevant and fully supports the communication, sensory, cultural and social needs of the individual. We do this in a number of ways: The PAMIS passport is a simple, easy to use, flick-through e-book that can be created and displayed on tablet devices, computers and phones. It was the idea of PAMIS family carers and was developed in partnership with both family carers and the family member they support. Each PAMIS passport contains information about the person and uses video, photography, sound and text to help that person express their needs. PAMIS work with partners to develop supportive digital approaches that ensure that people who have profound intellectual disabilities are seen within the broader digital landscape. This includes Scottish Government Digital Health, Scottish Government Digital Equality and Divdersity Teams, Local Authority, NHS and Education teams. Our involvement ensures that the voices and lived experience of people who have profound intellectual disabilities and their family carers are part of the digital conversation. PAMIS support inclusive and bespoke digital training that supports the carers of those who need 24/7 care are able to gain access to training that fits in with their caring role and which does not prove burdensome to them.
Support offered:
PAMIS Digital Passports- a freely available customisable digital e-book that supports inclusive communication by using a multimedia approach and amplifies the voice of the individual.
The passport, uniquely, is owned by the individual and is shared with those they choose to share it with. The initiation and development of the passport might come from family carers, paid carers, practitioners, and individuals themselves. The development process has often been used as a way of building a truly person led approach with people who need extra support. The passports are freely available to anyone who needs them.
PAMIS Online Activities for People who have profound and multiple learning disabilities and complex sensory and communication needs. These include multisensory storytelling, music making, wellbeing activities, family meet-ups and peer support, digital training and support to gain access to digital. We have developed supportive online training around the health needs of people who have profound learning disabilities which is delivered online and uses a multimedia approach.
Support wanted:
PAMIS Digital Passports Access to PAMIS training Consultation and support for organisations looking for ways to include people who have profound and multiple learning disabilities and their family carers.
---
PAMIS has been supported by the Charter Fund
Visible Voices
 Funding provided 2 years ago
People who have profound intellectual disabilities depend on others 24/7 to support all aspects of their lives including inclusion within digital. PAMIS will deliver adapted and inclusive digital training and support that is appropriate to the needs of people who have PMLD and their family carers.… Read more

Find out more about the Charter Fund
---