Legal Services Agency Ltd
 Signed 7 months ago
Third Sector category: Law, Advocacy, Politics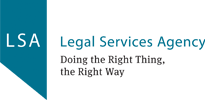 ---
Organisation statement:
Legal Services Agency (LSA) is a Law Centre and Charity which provides skilled legal advice, assistance and representation to vulnerable people and those who would otherwise find it difficult to get legal advice.
We have experience in areas of law that other solicitors don`t deal with. Our strong commitment to social justice means we believe everyone should have the right expert on their side when things go wrong.
We concentrate on the rights of people who are disadvantaged through mental illness, dementia, vulnerability resulting from youth or old age, poverty, debt, threatened homelessness, exclusion or any other reason.
Commitment to digital participation:
We are embarking on a 5 year digitisation plan to embrace digital technology in our workplace with the intent to work smarter, faster and cheaper.
Support offered:
In the first instance we shall be providing training and support to our own staff, enabling them to be confident and curious with the use of digital technologies. Following this initial period we shall commence a series of pilot projects to enhance our use of digital for our internal workings and then how we might apply digital to support our clients better.
Support wanted:
Training in software use, data collation and manipulation, "how to" assists with electronic forms, webchat, fundraising, administering our own website, linking different softwares.
---