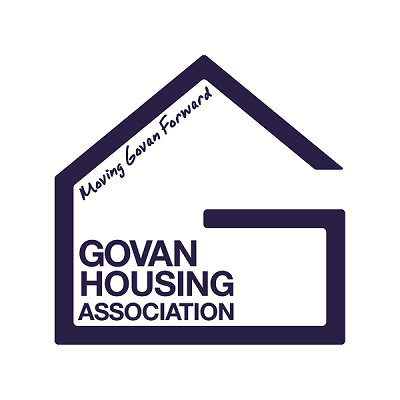 ---
Organisation statement:
19/10/2017: Govan Housing Association possesses a rich history and one of development and innovation. Founded in 1971 under the name of Central Govan Housing Association, Govan Housing Association was the first community based housing provider, leading the way for social housing provision in Scotland.
Since then, the Association has taken ownership and management of over 1,600 properties in the local area and delivered a number of award winning new build developments to assist with the continual development and regeneration of this proud and historic area.
Commitment to digital participation:
19/10/2017: Govan Housing Association signed the Digital Participation charter because we are committed to increasing people's quality of life using digital technology as a driver for education, employment, social integration, financial inclusion and general health and wellbeing. To this end, we recently employed a Digital Inclusion worker, whose role will be to develop a number of projects supporting digital participation in and around the Govan area.
As part of our commitment to digital participation, we will be facilitating a Digital Forum with a focus on developing the use of digital technology among our tenants and the wider local community. The first phase of this is to build effective pathways for individuals looking for support with digital skills and accessing provision and using a partnership approach to consult with Govan residents on what specific barriers they face to digital participation. These consultations will feed into Phase 2 starting in March 2018 to address the specific needs of our community.
We are also committed to looking at opportunities for providing digital channels to the services that we provide to our tenants and the local community; this will involve providing some of our traditional services via online portals and mobile apps.
Support offered:
19/10/2017: The first of these is the provision of Digital Hubs across the area; providing free computer access, free printing/scanning, free loan of tablets, support and training in an informal friendly environment. We currently run both The Digital Hub in 905 Govan Road Glasgow and a drop in satellite hub at Clyde Community Hall in Ibrox, with scope to develop more in Linthouse and Elderpark by December 2017.
The second is providing one to one support to Govan Housing Association tenants. We recognise that one of the main barriers to digital participation continues to be confidence and motivation. It can be daunting to go into a local library or an unfamiliar environment when facing significant barriers (literacy, financial, mobility, health etc.). To combat this, we are offering one to one support and house visits to support our local tenants who are looking to get the most out of their devices and those that are looking for a digital solution to a practical problem or are looking to get involved in lifelong learning.
Thirdly, we recognise that cost implication continues to be a significant barrier to people who are living with a low income and that purchasing technology and fit for purpose internet is not always possible for tenants. To this end, we are offering a Tech Library for people to access devices that they can then take home for up to two weeks at a time. We are also committed to engaging with technology suppliers, where possible, to help our tenants and community gain access to high-speed internet connectivity at home at low cost.
Finally, we are committed to helping our workforce become digitally aware and enabled; and as part of this commitment, we will be hosting in-house technology demos to help our staff understand the latest developments in digital technology.
Support wanted:
19/10/2017: Govan Housing Association are hoping to develop pop up digital events in response to local needs and interests. Based at our Digital Hub in 905 Govan Road, we hope to run a number of engaging, fun and informative sessions throughout the year on topics around technology (virtual reality, gaming, apps, workshops, music, art). We are hoping to work with partner organisations, local tech companies and innovators to offer out these sessions to residents.
As part of our commitment to staff training, we would like to offer opportunities for partner organisations to come in and give small trainings workshops to staff on our new creative equipment (cameras, editing software etc.) and on social media engagement tools. We hope to develop this approach further in the near future.
Govan Housing Association hope to liaise with local service providers (e.g. Sky, Virgin, BT) to enable tenants and residents to have fit for purpose internet at home. By potentially offering low cost packages to those living on low income and those returning to the job market we can overcome potential financial barriers to Digital Inclusion. This partnership could also extend to improving infrastructure locally to support providers to upgrade to fiber optic connections, strengthen phone signal and potentially provide improved Wi-Fi Hotspots in our local area.
---