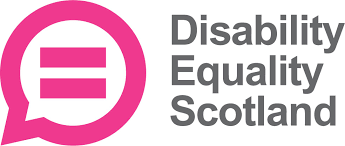 Disability Equality Scotland
 Signed 4 years ago
https://twitter.com/DEScotTweets
https://www.facebook.com/DisabilityEqualityScotland/
Third Sector category: Other
---
Organisation statement:
We are a member-led national charity working to achieve full access and inclusion for disabled people. We promote access in its widest sense, including access to the built and natural environment and access to the same opportunities as are enjoyed by others in our communities, promoting a life of dignity, respect and independence. Our aim is for every disabled person to have the opportunity to participate in a fulfilling life.
Commitment to digital participation:
We will continue to identify common barriers to engaging online across the Access Panel Network, and address these through training, advice and distribution of equipment.
---