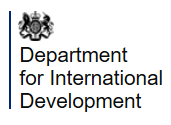 ---
Organisation statement:
The Department for International Development (DFID) leads the UK's work to end extreme poverty. We are tackling the global challenges of our time including poverty and disease, mass migration, insecurity and conflict. Our work is building a safer, healthier, more prosperous world for people in developing countries and in the UK too.
Commitment to digital participation:
We commit to improving the digital skills and capability of our staff, within Scotland, the UK and globally in our 28+ country offices. We also pledge to use our skills to help each other, through our network of Digital Ninjas.
Support offered:
We have shared our innovative Digital Ninja initiative with several organisations, and are open to sharing with many more. Our ninjas are available to support their local communities to improve digital skills.
Support wanted:
Finding opportunities where our skills can be put to best use.
---